Ad blocker interference detected!
Wikia is a free-to-use site that makes money from advertising. We have a modified experience for viewers using ad blockers

Wikia is not accessible if you've made further modifications. Remove the custom ad blocker rule(s) and the page will load as expected.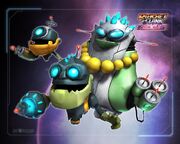 Zurkon Family was the V3 upgrade for Mr. Zurkon. This upgrade brought out Mrs. Zurkon to fight alongside her husband Mr. Zurkon and son Zurkon Jr..
Raritanium weapon upgrades
Staying Power: Increases the duration and health of the Zurkons.
Rate of Fire: Increases the speed and reload time of the Zurkons.
Ammo: Increases ammo capacity.
Bolts: Increases the bolts acquired from defeated enemies.
Mystery Upgrades
Proton Blast: The Zurkons combine their blasts to do massive damage.
Ammo: Increases ammo capacity.
Raritanium: Increases the raritanium acquired from defeated enemies.
Appearances
---