Ad blocker interference detected!
Wikia is a free-to-use site that makes money from advertising. We have a modified experience for viewers using ad blockers

Wikia is not accessible if you've made further modifications. Remove the custom ad blocker rule(s) and the page will load as expected.
The Volcanox Armor was a lightweight, durable armor that offered 5% damage reduction, it also all but guaranteed "Best-Dressed" awards at high school reunions. It was inspired by Gadgetron's Infernox Armor.[1]
Behind the scenes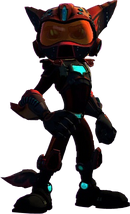 This armor is available as a pre-order bonus for Ratchet & Clank: Into the Nexus at certain retailers.[1] The card which gives the bonus code refers to it as Ratchet Armor.
Development
This armor is inspired by the Infernox Armor from Ratchet & Clank: Up Your Arsenal.[1] The Volcanox Armor was originally known as the Pyronox Armor.[1]
Appearances
Notes and references