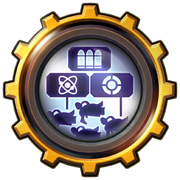 Ratchet, King Midas is a gold trophy in the high-definition re-release of Ratchet & Clank also available through Ratchet & Clank Collection. Collect all ten golden weapons to obtain this trophy.
Behind the scenes
The gun in the trophy picture is the Lacerator, even though it was not in the original game.
Appearances
See also
|es = Ratchet Midas
Ad blocker interference detected!
Wikia is a free-to-use site that makes money from advertising. We have a modified experience for viewers using ad blockers

Wikia is not accessible if you've made further modifications. Remove the custom ad blocker rule(s) and the page will load as expected.