" Yoo-hoo, Mr. Zurkon is looking to kill you. "
―Mr. Zurkon hunting for enemies.  
Mr. Zurkon was a Synthenoid, husband of Mrs. Zurkon, and father of Zurkon Jr. It was originally released by the Polaris-based weapons company, GrummelNet, into their Combat Device line and later re-released in their basic weapon line. It released/summoned a small, hovering synthenoid named Mr. Zurkon. He aided his user in battle by shooting at enemies with a mounted laser blaster. Mr. Zurkon also possessed a sadistic sense of humor, and threw some nasty insults and taunts at nearby enemies.
He was voiced by Marc Graue.
Ratchet & Clank Future: Tools of Destruction
Mr. Zurkon was a device in this game. To use a Mr. Zurkon, the player had to select Mr. Zurkon from the Quick Select or weapons menu and then press R1 or Template:Icon to toss a Mr. Zurkon capsule from which he spawned. Tossing another Mr. Zurkon out while one was already active would destroy the previous one. 4 Mr. Zurkon devices could be held at once. Because Mr. Zurkon was a device in this game, he could not be upgraded. Each Mr. Zurkon cost 5,000 bolts.
Cheat
There is a cheat which was unlocked with 400 skill points that turned Mr. Zurkon into a child in a flying saucer. Insomniac Games was inspired to make this cheat when a child was hit by a car and was from that point on, paralyzed. However, he still had his love for video games and continued to play the Ratchet & Clank series. The child was named James Westbrook and his family was on an episode of the since-ended ABC show Extreme Makeover: Home Edition.
Ratchet & Clank Future: A Crack in Time
Mr. Zurkon made a return, this time as a weapon, in A Crack in Time. He could be purchased for 6,000 bolts starting on Vorselon's Warship in the Phylax Sector. Because it is a weapon, each separate Synthenoid was considered ammo, and cost 250 bolts. At V5, Mr. Zurkon became Zurkon the Destroyer, a more powerful version which was blue instead of green. At V5, he also occasionally released a stronger laser blast. Ammo needed to be replenished every time he died.
GrummelNet Preview
"Mr. Zurkon is the perfect companion for spontaneous treks through hostile alien environments. Uh oh. Looks like these guys are hungry for Lombax soup. Well, not to worry! Just deploy your Mr. Zurkon, and he'll target any hostile entity. "Yoo Hoo! Mr. Zurkon is looking to kill you!" Ain't he eloquent? Mr. Zurkon. Available only at GrummelNet."
Ratchet & Clank: All 4 One
Mr. Zurkon returned in All 4 One with a co-op twist. When teammates launch multiple Zurkons at once they will work together as a team. He could be obtained earlier in gameplay by pre-ordering the game from Gamestop
With the Elite upgrade, Mr. Zurkon creates a massive explosion when destroyed, taking out as many as ten enemies.[1]
Ratchet & Clank: Full Frontal Assault
Although Mr. Zurkon was a weapon in this game, he considered himself a member of the Q-Force. Once upgraded to LVL3, he became the Alpha Zurkon. He was very useful when fighting against a Missile Minion.
Ratchet & Clank: Into the Nexus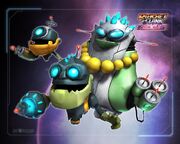 To help with the "spooky theme" of Into the Nexus, Mr. Zurkon had a deeper, spookier voice. When upgraded, Mr. Zurkon's family comes out to aid Ratchet and Clank in battle.
lv1-Mr. Zurkon appears by himself.
lv2-Mr. Zurkon takes Jr. to work.
lv3-Hell hath no fury like Mrs. Zurkon's scorn.
Other
Ratchet & Clank comics
Mr. Zurkon appeared in Ratchet & Clank: Issue 6: Bros Before Foes. Artemis Zogg dispatches many of them to attack Ratchet, Clank, Sasha, Cronk, Zephyr, and the Galactic Rangers.
Weapon Summaries
" This Synthenoid robot flies after Ratchet, helping to protect him - and also has a tendency to bad-mouth its unsuspecting foes. "
―Survival Guide Device Description  
Trivia
While flying in the Vela Sector, Kip Darling and Pepper Fairbanks interviewed Mr. Zurkon concerning Dr. Nefarious's assault on the galaxy. However, his only responses were recycled quotes, to which Kip says: "Hippie!"
Gallery
Appearances
Non-canon
Notes and references
Ad blocker interference detected!
Wikia is a free-to-use site that makes money from advertising. We have a modified experience for viewers using ad blockers

Wikia is not accessible if you've made further modifications. Remove the custom ad blocker rule(s) and the page will load as expected.