Ad blocker interference detected!
Wikia is a free-to-use site that makes money from advertising. We have a modified experience for viewers using ad blockers

Wikia is not accessible if you've made further modifications. Remove the custom ad blocker rule(s) and the page will load as expected.
" Delight your enemies with a blast of snowflakes that will turn them into frosty snowmen. Brr! "
―Instruction Manual Weapon Description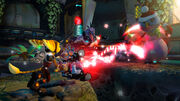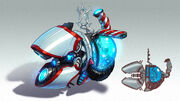 The Winterizer was a weapon used by Ratchet that turned enemies into snowmen while playing Jingle Bells.[1] It was originally created to make snowmen during the holiday season.[2] When upgraded the snowmen also dropped gifts such as health and ammo.[2]
The Winterizer upgraded into the Blizz-O-Matic at V3.
Behind the scenes
The Winterizer turns each type of enemy in Ratchet & Clank: Into the Nexus into a unique type of Snowman.[3] Each enemy is frozen in its exact pose.[2]
Appearances
Sources
Ratchet & Clank: Into the Nexus game manual‏‎
Notes and references
---