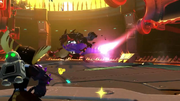 The Netherbeast was a weapon. It was a Netherbeast who had been tamed to attack enemies in the formation that its user punched.[1] The Netherbeast upgraded into the Netherfiend at V3. It was first available on Meridian City.
Weapon Description
The weapon was similar to the Sonic Eruptor and the Plasma Beasts in that they were both creatures attached to weapons. The Netherbeast was a young Nether that had been tamed, and would lunge out at enemies to 'punch' them. The upgraded Netherfiend was a fully grown netherbeast which was more powerful.
Trivia
Ironically, it was first available where you had to fight Nethers.
Appearances
Notes and references
---
Ad blocker interference detected!
Wikia is a free-to-use site that makes money from advertising. We have a modified experience for viewers using ad blockers

Wikia is not accessible if you've made further modifications. Remove the custom ad blocker rule(s) and the page will load as expected.