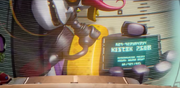 Neftin Prog was a Cyborg Nether and an adversary of Qwark.
Biography
Neftin was known to have attempted to turn the entire population of Aridia colorblind twice. However, he was stopped by Captain Qwark both times.
Appearances
---
Ad blocker interference detected!
Wikia is a free-to-use site that makes money from advertising. We have a modified experience for viewers using ad blockers

Wikia is not accessible if you've made further modifications. Remove the custom ad blocker rule(s) and the page will load as expected.