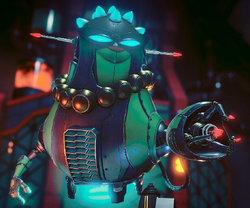 Mrs. Zurkon was a giant Synthenoid unit created by Nefarious and Drek Industries. She had the ability to release Evil Zurkons for assistance and fired a powerful homing shot from her arm cannon. She fought the Galactic Rangers when they infiltrated the warbot factory on Quartu and easily defeated Brax and was destroyed by Ratchet and Clank, with help from Cora.
Walkthrough
Appearances
---
Ad blocker interference detected!
Wikia is a free-to-use site that makes money from advertising. We have a modified experience for viewers using ad blockers

Wikia is not accessible if you've made further modifications. Remove the custom ad blocker rule(s) and the page will load as expected.