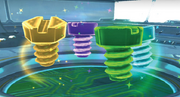 Hero bolts were a rare form of bolts that replaced gold bolts, found exclusively on planet Magnus. Hero bolts were required to unlock different skins, much like how gold bolts, titanium bolts and platinum bolts worked in previous games.
In each hero bolt location, there was one hero bolt for each character playing - and the colors of the hero bolts corresponded to the colors of the characters.
Hero Bolt colors
Ratchet - Gold
Clank - Light Blue
Qwark - Green
Nefarious - Purple
Hero bolt locations
Appearances
See also
Ad blocker interference detected!
Wikia is a free-to-use site that makes money from advertising. We have a modified experience for viewers using ad blockers

Wikia is not accessible if you've made further modifications. Remove the custom ad blocker rule(s) and the page will load as expected.