Your name's Percival?

The term "Flying Croid Bot" is conjectural. The real name is unknown, and a non-canonical nickname or title is used instead. See the reasons for this title in the "Behind the scenes" section below and/or the relevant discussion on the talk page, if they exist.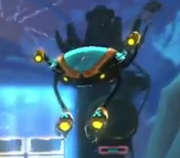 Flying Croid Bots were a form of Croid Bot that acted as aircraft rather than walking mechas, having no legs and being painted orange rather in purple. While still piloted by a Robot Pilot, their weapon systems on Flying CroidbBots were also different. They shot beams similar to Tank Minion, but shot them at foes like a Drophyd Gunship. They attack Leon the reprogrammed Guardian, being powerful enough to punch holes into the armor. Aim the Fusion Turrets to send these Croid Bots falling out the sky. They were built by Dr. Croid.
Appearances
Ad blocker interference detected!
Wikia is a free-to-use site that makes money from advertising. We have a modified experience for viewers using ad blockers

Wikia is not accessible if you've made further modifications. Remove the custom ad blocker rule(s) and the page will load as expected.