Your name's Percival?

The term "Demo Thug" is conjectural. The real name is unknown, and a non-canonical nickname or title is used instead. See the reasons for this title in the "Behind the scenes" section below and/or the relevant discussion on the talk page, if they exist.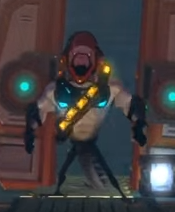 Demo Thugs were Thugs-4-Less soldiers. They wore red armor, making them less susceptible to damage than the average Thug, and threw grenades at Ratchet.[1]
Appearances
Notes and references
Ad blocker interference detected!
Wikia is a free-to-use site that makes money from advertising. We have a modified experience for viewers using ad blockers

Wikia is not accessible if you've made further modifications. Remove the custom ad blocker rule(s) and the page will load as expected.