Captain Qwark's Ship[1] (originally Drek's starfighter) was a heavily armed starfighter that Qwark used to fight Ratchet at the Gemlik Base, on Drek's orders. When the Lombax defeated the fraudulent superhero, what remained of the starfighter spiraled down and crashed on planet Oltanis. The starfighter fired rockets and homing mines at its opponents, and also had a tractor beam strong enough to pull Jet Fighters into it, along with an indestructible shield.
Trophy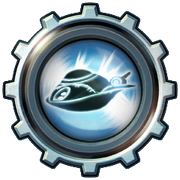 All Qwark'd Up is a silver trophy in the high-definition re-release of Ratchet & Clank also available through Ratchet & Clank Collection. Defeat Qwark's ship in Ratchet & Clank to obtain this trophy.
Behind the scenes
Appearances
Sources
Ad blocker interference detected!
Wikia is a free-to-use site that makes money from advertising. We have a modified experience for viewers using ad blockers

Wikia is not accessible if you've made further modifications. Remove the custom ad blocker rule(s) and the page will load as expected.