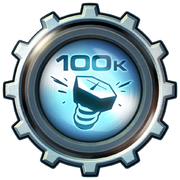 Bolt Collector is a silver trophy in the high-definition re-release of Ratchet & Clank, also available in Ratchet & Clank Collection. Collect 1,000,000 bolts in Ratchet & Clank to obtain this trophy. The 1,000,000 bolts is the total collected throughout gameplay rather than the total currently in possession as spent bolts still count towards this total.
Behind the scenes
The trophy image shows 100k, which means 100,000 as opposed to 1,000,000. This is likely a mistake.
Appearances
|es = Recogeguitones (Ratchet & Clank)
Ad blocker interference detected!
Wikia is a free-to-use site that makes money from advertising. We have a modified experience for viewers using ad blockers

Wikia is not accessible if you've made further modifications. Remove the custom ad blocker rule(s) and the page will load as expected.