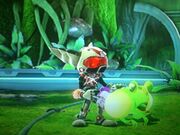 The Alpha Sonic Eruptor was the upgraded version of the Sonic Eruptor. It was green and purple and was very powerful. When an enemy was hit by the Alpha Sonic Eruptor, some sort of green Napalm would stick to them, damaging them over time. It also had a wider blast radius.
Appearances
Ad blocker interference detected!
Wikia is a free-to-use site that makes money from advertising. We have a modified experience for viewers using ad blockers

Wikia is not accessible if you've made further modifications. Remove the custom ad blocker rule(s) and the page will load as expected.